What to Drink? Four Drink Syrups for Recreation Feasts
When recreating an event at a site that is dry what do you drink? I prefer drink syrups which can be diluted to taste with water. They are easy to make, easily transportable, and do not require special storage. I have two that I use regularly at events; Sekanjabin (oxmel) and Syrup of Pomegranites. I have also recently discovered two new favorites which are destined to become regular syrups to bring with me camping or at events; Syrup to Cool the Stomach and Allay Chollor and Apple Syrup, a syrup based off of "An Apple Drink with Sugar or Honey". I hope you try these out and respond back with your own opinions of them.
Syrup of Simple Sekanjabin (Oxymel) - Persian Mint Drink
-
"
An Anonymous Andalusian cookbook of the 13th Century" as translated by David Friedman.
Sekanjabin refers to the "family" of drinks made with vinegar, sugar and water (Meade, 2002). I prefer to use red wine vinegar as the base of my drink. I have also used flavored vinegars and omitted the mint. I prefer a stronger drink, so I usually dilute 5:1 ratio of water to syrup.
Take a ratl of strong vinegar and mix it with two ratls of sugar, and cook all this until it takes the form of a syrup. Drink an ûqiya of this with three of hot water when fasting: it is beneficial for fevers of jaundice, and calms jaundice and cuts the thirst, since sikanjabîn syrup is beneficial in phlegmatic fevers: make it with six ûqiyas of sour vinegar for a ratl of honey and it is admirable.

...[gap: top third of this page has been cut off]...

... and a ratl of sugar; cook all this until it takes the consistency of syrup. Its benefit is to relax the bowels and cut the thirst and vomiting, and it is beneficial in bilious fevers (Friedman, 2000).

Sekanjabin Recipe (Courtesy of David Friedman)
Dissolve 4 cups sugar in 2 1/2 cups of water; when it comes to a boil add 1 cup wine vinegar. Simmer 1/2 hour. Add a handful of mint, remove from fire, let cool. Dilute the resulting syrup to taste with ice water (5 to 10 parts water to 1 part syrup). The syrup stores without refrigeration.
Syrup of Pomegranites - Spiced Pomegranate Syrup -
Take a ratl of sour pomegranates and another of sweet pomegranates, and add their juice to two ratles of sugar, cook all this until it takes the consistency of syrup, and keep until needed. Its benefits: it is useful for fevers, and cuts the thirst, it benefits bilious fevers and lightens the body gently (Friedman, 2000).
Spiced Pomegranate Drink (Courtesy of David Friedman)
1 quart pomegranate juice
4 cups of sugar
1-2 cinnamon sticks*
Up to a tablespoon of cloves*
As the recipe from Al-Andulus suggests, equal parts of juice to sugar, heated until it boils and then lower the heat and cook until it becomes thick syrup. I dilute my syrup with a 4:1 ratio of water to syrup.
A syrupe to cool the stomach and to allay chollor -
A Booke of diuers Medecines, Broothes, Salves, Waters, Syroppes and Oyntementes of which many or the most part have been experienced and tryed by the speciall practize of Mrs Corlyon.
Take the juyce of Oranges six spoonefulles*, the like quantity of the juyce of Lemmons and so much of the juyce of Pomegranetts (if you can goff it) putt to it so much redd Rose ayer as all those juyces doe amounte unto, and putt likewise so much faire water as will equall the foresaid juyces and Rose water. Then moasure all togoathor and to half pinte putt halfo a pound of Sugar fynelye boaton and so boil altogoathor till it commoth to a syrupe. Then putt it into a glasse and keepe it for your use. And when you will use it take some borrage water or rose water or faire running water boiled, mingle it with so much syrupe as you will take, so as you may drink it
Equal amounts of orange juice, lemon juice, pomegranate juice, distilled water
1/2 pound of sugar per 1/2 pint of juice
*Opt. Rosewater
Place juices into a pan with sugar and boil until they become a syrup (approximately ½ an hour) Dilute 1:4 syrup to water, or to taste.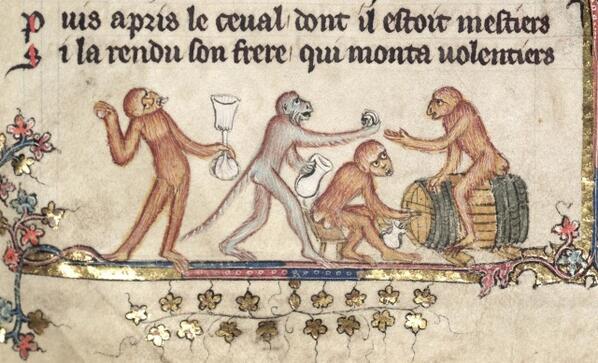 Apple Drink with Sugar, Honey
- The Closet of Sir Kenelm Digby Opened ~1669
A very pleasant drink is made of Apples, thus; Boil sliced Apples in water, to make the water strong of Apples, as when you make to drink it for coolness and pleasure. Sweeten it with Sugar to your tast, such a quantity of sliced Apples, as would make so much water strong enough of Apples; and then bottle it up close for three or four months. There will come a thick mother at the top, which being taken off, all the rest will be very clear, and quick and pleasant to the taste, beyond any Cider. It will be the better to most taste, if you put a very little Rosemary into the liquor, when you boil it, and a little Limon-peel into each bottle, when you bottle it up.
Apple Drink with Sugar or Honey
1/4 cup sugar
5 cups water
1-2 sliced and peeled apples

Place peeled, cored and sliced apples into a pan and add water. Bring to boil and reduce heat, simmering until apples are mushy and water is strongly flavored. Drain the apples through a collander that has been lined with coffee filters, stir in sugar and allow to cool before drinking.
For more excellent ideas on non-alcoholic beverages that were enjoyed, and can be used at recreation events (or camping) please visit HL Ronan Meads
Non-Alcoholic Beverages of the Middle Ages
, the inspiration for many of the syrups you see on this post, and my starting point to continue researching appropriate drinks.